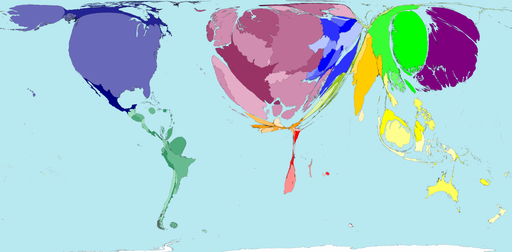 North America and Western Europe import (US$ gross) the highest values of fuel. The region that imports the least fuel is Central Africa - where six of the ten territories reported no fuel imports.
Imports per person are highest in Singapore and Bahrain. These are small island territories, where enough of the people living there are relatively rich. Singapore is a long established trading port. Bahrain is a group of islands in the Arabian Gulf. Due to declining oil reserves Bahrainís industry now imports crude oil, refines it, the exports it.
The Western European region records the highest total fuel imports partly due to trade within this region.
"Japanís city gas companies import natural gas ... from seven countries including Alaska, Malaysia, Indonesia, Australia, Brunei, Qatar, and Oman." Kunio Anzai, 2004
Territory size shows the proportion of worldwide fuel imports arriving there.