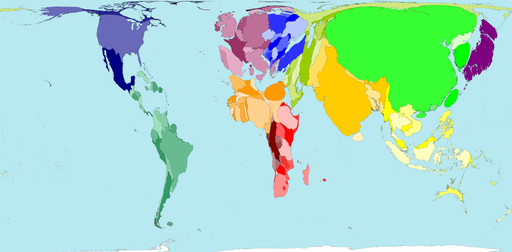 In total 519 million men work in industry. Industry here means manufacturing, the production of tangible goods. A third of the men that do industrial jobs live in Eastern Asia, the majority being in China.
As a proportion of the population, the most industrial men live in the Eastern European territories of the Czech Republic and Slovakia. The territory with the smallest proportion of the population being men that work in industry is Bangladesh. Most of the territories with very low proportions of the population that are men working in industry are either located in parts of Southern Asia or the Middle East.
"They earn about $2,400 a year - nearly five times the average per capita income ... Rajesh Kumar Raghavji Santoki, 28, was earning more than $500 a month, and owned a house, a motorcycle and van." Amy Waldman, 2005
Territory size shows the proportion of worldwide male industrial workers living there.