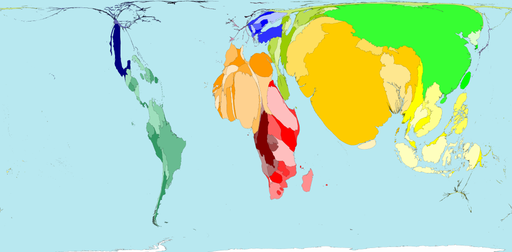 In Indonesia US$10 buys more than it does in the United States, so comparing earning in US$ alone does allow for the cost of living changing between places. The map shows purchasing power parity (PPP) - someone earning PPP US$10 in Indonesia can buy the equivalent of what PPP US$10 would buy in the United States. As such more practical assessments of individuals' earnings can be made.
In 7 out of the 12 regions more than half of the population live in households where the people live on below PPP US$10 a day. In Central Africa 95% of households have workers earning this little; in Western Europe and Japan less than 1% of the population does.
"There is no work here, and when you do find a job, you earn pathetically low wages. I'm a factory watchman, and I earn the equivalent of eight dollars for a 12-hour day." Pirana, 2005
Territory size shows the proportion of all people living on US$10 purchasing power parity or less a day worldwide, that live there.