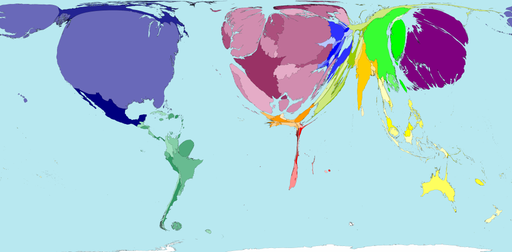 This wealth map shows which territories have the greatest wealth when Gross Domestic Product (GDP) is compared using currency exchange rates. This indicates international purchasing power - what someone's money would be worth if they wanted to spend it in another territory. For some their money will gain value when they move - others' money will lose value. This facilitates the movement of some people, whilst severely limiting that of others.
Wealth, as reflected by GDP per person, is highest in Luxembourg, Norway and Switzerland. It is lowest in Ethiopia, Burundi and the Democratic Republic of Congo.
"… for the citizens of most countries today, the success of their economy in the harsh world of global competition is of paramount importance." Deanne Julius, 2005
Territory size shows the proportion of worldwide wealth, that is Gross Domestic Product based on exchange rates with the US$, that is found there.