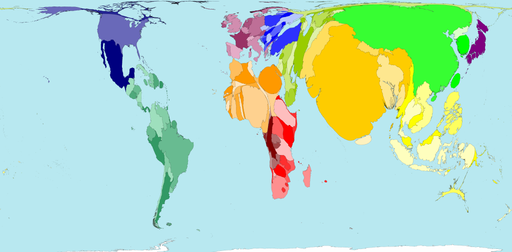 "Everyone has the right to education", according to the Universal Declaration of Human Rights. The second Millennium Development Goal is to achieve universal primary education. In 2002, 5 out of 6 eligible children were enrolled in primary education worldwide. However, enrolment does not guarantee attendance, or completion.
If primary education continues beyond the expected years, enrolment rates can exceed 100%. In Argentina there is an impressive 108% enrolment. On the other side of the Atlantic Ocean 30% of children in Angola are enrolled in primary school.
"If you are planning for a year, sow rice; if you are planning for a decade, plant trees; if you are planning for a lifetime, educate people." Chinese Proverb, undated
Territory size is proportional to the number of all children enrolled in primary education that are enrolled in that territory.