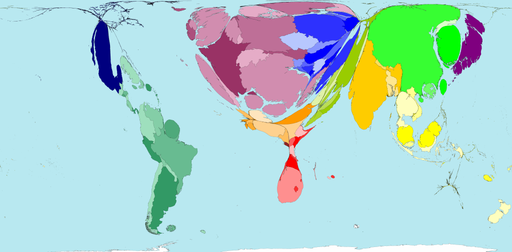 During the period from 1990 to 2001, increases in spending on secondary education occurred in most territories. The biggest increases in total spending were in China, Italy and India. The increase in China was 146%, in Italy 67%, and in India 37%. India and China now have similar amounts of spending per child, but Italy is over 30 times as much.
Of the 32 territories in South America, 28 had increased spending on secondary education. The biggest total increases were in Brazil, Argentina and Colombia - where the largest populations live. The biggest spending increase per child of secondary school age was in Saint Kitts and Nevis, where an extra US$2375 was spent by 2001.
"When salaries are regularly late (in some cases by up to 3 weeks), teachers are understandably left frustrated, demoralised and in financial hardship." Sutapa Choudhury, 2005
Territory size shows the proportion of all increases in spending on secondary education between 1990 and 2001 that have occurred there.