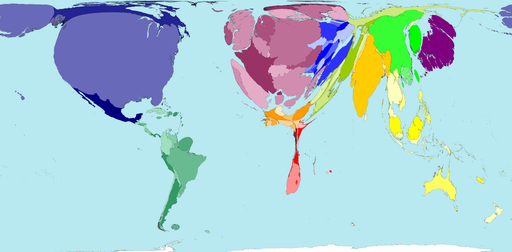 Of all spending on tertiary education, when measured in US$ adjusted for local purchasing power, 61% occurs within North America and Western Europe. At the other extreme, the total tertiary education spending in all of Central Africa and Southeastern Africa was 1.5% of the total worldwide spend.
Tertiary education includes the training required for jobs such as being a doctor, an engineer or a scientist. Investing in tertiary education can therefore benefit society more widely. For pupils to reach tertiary education they must first attend primary and secondary schools.
"With regard to the issue of equity in social expenditure, investment in primary education reaches a much broader cross section of society than does funding to higher education ..." Michael C. Gonzales, 1999
Territory size shows the proportion of all spending on tertiary education worldwide that is spent there, when measured in purchasing power parity US$.