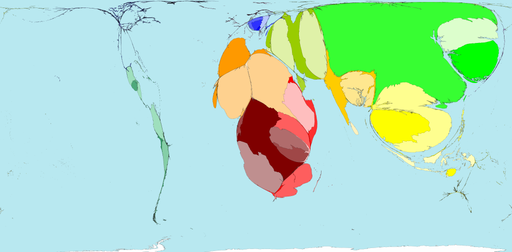 An estimated 51 million people have been killed in wars between 1945 and 2000. Almost a third of these deaths were amongst the population of China. China, Vietnam, the Democratic Republic of Congo and Sudan suffered the highest number of war deaths during this period.
Very few war deaths have occurred in Japan, Western Europe and North America between 1945 and 2000. Eastern Europe and South America also counted relatively few war deaths in total. Within these regions certain territories had high death counts, these territories include: Serbia and Montenegro, Croatia, Bosnia Herzegovina, Colombia, Bolivia and Guatemala.
"It is possible Iíll never see Nina again? Nina, an innocent eleven-year-old little girl - the victim of a stupid war. I feel sad. I cry and wonder why?" Zlata Filipovic, 1992
Territory size shows the proportion of deaths worldwide directly attributed to war or conflict that occurred there between 1945 and 2002.