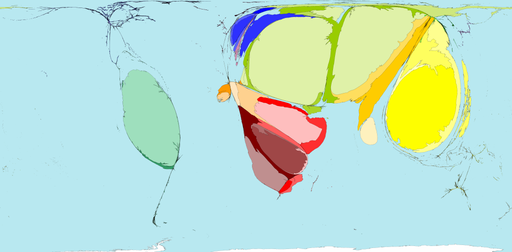 This map shows those people that have been injured or killed by landmines. Landmines are often buried (not very deep) in the ground. When landmines are stepped on, or driven over, the pressure makes them explode. The result can be death, or the loss of one or more limbs. Although used as weapons of war, landmines can remain for years after the war has ended. Thus some casualties are an ongoing legacy of past wars.
Between 2003 and 2005, there were almost 7000 landmine deaths and casualties a year worldwide. The most were in Iraq, Afghanistan, Cambodia and Colombia. Together they accounted for almost 4000.
"After the blast I saw smoke ... I was on the ground and didnít know what had happened. It was only when I tried to move that I realized I was bleeding." Lay Sokhum, 2004
Territory size shows the proportion of worldwide landmine deaths and casualties that occurred there, 2003-2005.