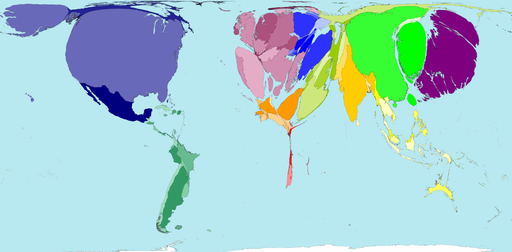 Particulates are dusts under 10 microns in diameter. They are linked to cardiopulmonary disease, lung cancer and acute respiratory infections. Their main sources are fossil-fuel power plants, vehicles, heating systems and industrial processes. Mapped is a measure of the costs of improving air quality to prevent avoidable deaths attributed to particulate emissions.
The United States, Japan and China would pay the most. This reflects the value placed on life, ability to pay, and numbers of people at risk. Particulate levels vary significantly between and within territories. The highest potential per person cost to avoid particulate-related deaths is in Kuwait, where pollution levels are high.
"At least seven out of the ten of the world's most polluted cities are located in China." Gerald Chan, 2004
Territory size shows the proportion of all particulate damage there. This is measured as the estimated cost to pay to avoid deaths caused by particulates there.