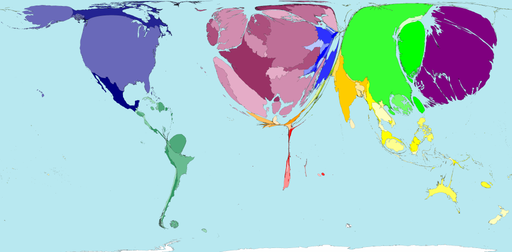 The World Bank's measure of adjusted savings includes environmental and social indicators, as well as conventional financial accounting. Education is treated as a long term saving. The following costs are subtracted from savings: wear and tear of buildings and infrastructure, use of fossil fuels, minerals and forests, and estimated costs of carbon and particulate emissions.
In 2003 there were high total savings (even after these adjustments were made) in Japan, the United States and China. These territories accounted for 48% of adjusted savings. In contrast, Middle Eastern and African territories are barely visible on this map, due to low adjusted savings.
"Only when the last tree has died, and the last river been poisoned, and the last fish been caught will we realise we cannot eat money." North American Cree, undated
Territory size shows the proportion of all adjusted savings that worldwide that are saved there.