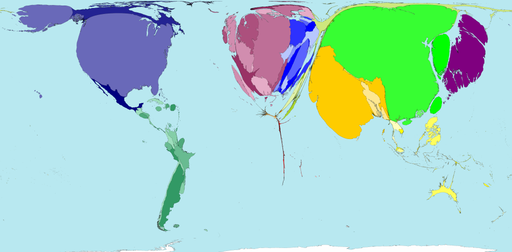 This map shows households that subscribe to a multichannel television service delivered by a fixed line connection. In 2002 there were 355 million households that subscribed to cable television services. Of this total, 27% were in China, 21% were in the United States, and 12% were in India.
In contrast, 36 territories reported no cable connections. Of these 36, 12 were in Northern Africa, 7 were in Asia Pacific, 5 in the Middle East, 5 in Southeastern Africa, and 7 elsewhere.
Cable subscriptions per 1000 people were highest in the territories of Monaco, Liechtenstein and the Netherlands.
"In the US, pay-TV began because the rural and outlying areas could not get good over-the-air reception ... new content alternatives increase[d] the value-add of cable systems, spawning their growth into the denser city areas." StarHub, 2007
Territory size shows the proportion of all cable subscribers found there.