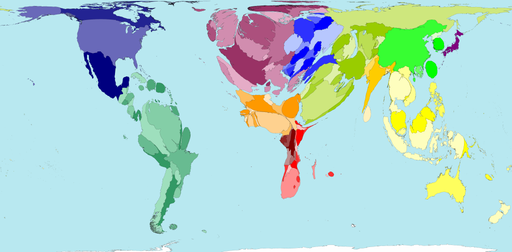 The relative values of primary goods exported are shown here. Primary goods are unprocessed items such as crude oil, fresh apples and metal ores. When exported these goods are often processed to become secondary goods, this adds value to the item.
Most territories export some primary and secondary goods. Angola in 1990 is an exception, recording almost all exports being primary goods. The value of primary exports depends on volume and price. People in Angola, reliant on primary goods export trade, earned US$ 3.3 billion in 1990 (people in 134 territories earn more per person from primary exports than in Angola).
"While proclaiming the virtues of a 'level playing field', the richer nations are distorting trade by heavily subsidizing their own producers so that they can dump their agricultural goods on world markets ..." Vanessa Baird, 2006
Territory size shows the proportion of the value of all primary exports in 1990 that came from there. This is measured in US$ by Purchasing Power Parity, meaning that the values reflect the local cost of living.