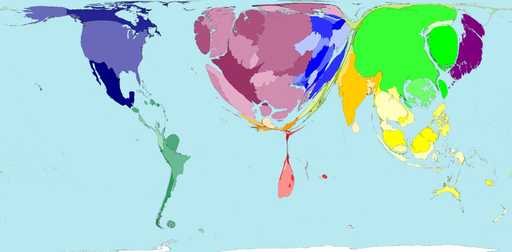 In 2002 secondary exports made up 71% of the value of the worldwide exports of all goods and services. On the islands of Cape Verde and Malta 96% of all goods export earnings were from secondary goods. Secondary exports from Nigeria, at the other extreme, were calculated to be 1% of the value of all Nigerian exports.
Between 1990 and 2002, the value of all secondary exports has more than doubled. The proportion of worldwide earnings in Western Europe has decreased whilst the Chinese proportion has increased. Both areas remain major exporters of secondary goods.
"China is aiming to lift the value of its vehicle and auto parts exports to 120 billion U.S. dollars, or 10 percent of the world's total vehicle trading volume in the next 10 years ..." Wei Jianguo, 2007
Territory size shows the proportion of the value of all secondary exports in 2002 that came from there. This is measured in US$ by Purchasing Power Parity, meaning that the values reflect the local cost of living.