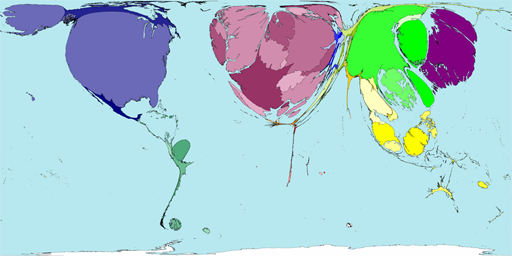 In 1990, 8 territories exported 72% of all hi-tech exports worldwide. Consequently these territories take up 72% of the area on this map. These territories were: the United States, Japan, China, the United Kingdom, France, Germany, Hong Kong (China) and the Republic of Korea.
US$ 543 billion was spent on hi-tech goods in 1990. Worldwide, hi-tech exports made up 16% of the value of exports of all secondary goods. By 2002 the total worldwide earnings from exports had increased substantially, and the market share attributable to hi-tech exports had increased to 21%.
"Since its establishment in 1991, the new and hi-tech industrial belt in the Pearl River Delta region has posted an average annual growth of over 40%." Monina Wong, 2005
Territory size shows the proportion of the value of all high technology exports in 1990 that came from there. This is measured in US$ by Purchasing Power Parity, meaning that the values reflect the local cost of living.