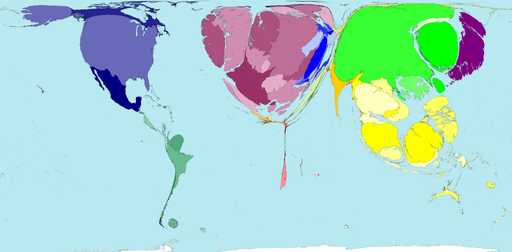 Between 1990 and 2002 the spending on exports of hi-tech goods quadrupled to US$ 1950 billion. This huge increase in the hi-tech market was accompanied by adjustments in the proportion of exports that were hi-tech goods. Malaysia and Singapore reported a 20% increase in hi-tech exports; Malta, Finland and Indonesia reported increases of roughly 15%. Despite these changes, the main territories exporting hi-tech goods remain the same over time.
On average hi-tech exports make up 41% of the value of all manufactured exports from territories in Asia Pacific. This ranges from the Philippines with 65% to Samoa and Tonga with 0%.
"We look forward to seeing the relaxation of hi-tech export controls practiced by the United States against China." Wu Yi, 2006
Territory size shows the proportion of the value of all hi-tech exports in 2002 that came from there. This is measured in US$ by Purchasing Power Parity, meaning that the values reflect the local cost of living.