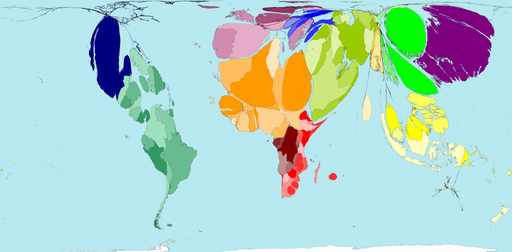 Four out of every five territories have net cereal imports. Exports and imports are measured by cost. Exports are valued when they leave a territory. Import cost equals the export cost plus the cost of transport between territories. Therefore total import costs are higher than total export costs.>
African territories together receive more of the world share of net imports of cereals than they do for net imports of fruit, vegetables, meat, fish, groceries, or alcohol and cigarettes.
"Maize was introduced in Africa by Portuguese explorers in the beginning of the 16th century.  It has since become Africa's second most important food crop, behind cassava ..." Africancrops.net, 2006
Territory size shows the proportion of worldwide net imports of cereals (in US$) that are received there. Net imports are imports minus exports. When exports are larger than imports the territory is not shown.