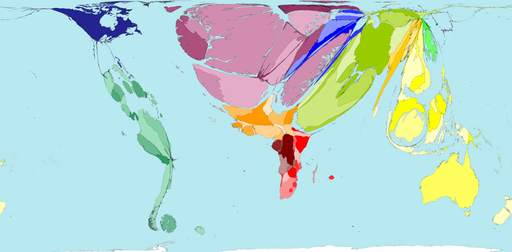 Asia Pacific and the Middle East are the main vehicle importing regions (US$ net). Both of these regions spend over US$15 billion per year on vehicles, which is more than three times what other regions spend on vehicles. Some Western European territories are big vehicle importers, but in total Western Europe is a net exporting region.
The island of Niue imports the lowest value of vehicles per year. Over one year the value of vehicles imported (net) to Nuie was US$116 000, this is a fraction of the value of vehicle imports to the United Kingdom. Net, US$14 000 000 000 worth of vehicles were imported to the more populous islands of the United Kingdom in one year.
"A special ceremony was organised on Friday in Zhengzhou, capital of central China's Henan Province, to mark delivery of 400 buses for export to Cuba." People's Daily Online, 2005
Territory size shows the proportion of worldwide net imports of vehicles (in US$) that are received there. Net imports are imports minus exports. When exports are larger than imports the territory is not shown.