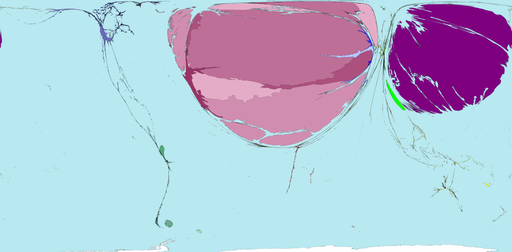 Only 19 territories are primarily exporters (net US$) of machines; 181 territories are net importers of machines. Machines include engines, turbines and pumps. Also included are machines for making food, working metal and binding books.
Earnings from machines account for 10.5% of all earning from international exports worldwide. These earnings are almost exclusively made in Western Europe and Japan. Of all the net exporting territories, Switzerland earns the most per person from its machine exports (US$ net). No territories in 7 of the 12 world regions are net exporters of machines.
"There in the flickering light of the lamp was the machine sure enough, squat, ugly, and askew; a thing of brass, ebony, ivory, and translucent glimmering quartz." H. G. Wells, 1898
Territory size shows the proportion of worldwide net exports of machines (in US$) that come from there. Net exports are exports minus imports. When imports are larger than exports the territory is not shown.