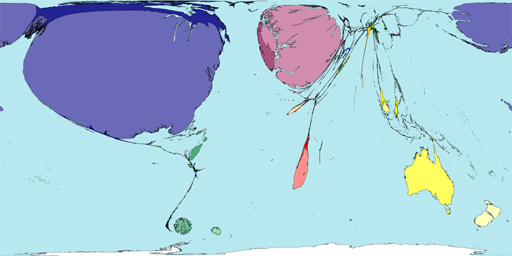 Spread of the English language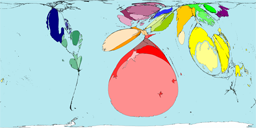 This smaller map removes the countries where English is dominant. This map therefore only shows 2.6% of all speakers of English. The territories omitted are Australia, Canada, United States, Ireland, United Kingdom, New Zealand, Barbados and Trinidad & Toba.
Click the map for a larger image.
English has grown and spread to become the most widely-used language in the world. There are around 350 million first-language speakers in nearly one hundred territories, and there are probably a similar number of people for whom it is a second language. This spread, starting from Britain, has happened over the course of 400 years, and English has become the main language of the United States, Australia, New Zealand and South Africa. In other countries it has become the language used in government, education, and international communications.
English is a member of the West Germanic family of languages.
Territory size shows the proportion of all people who speak English as a first language that live in that territory.