Spread of the Arabic language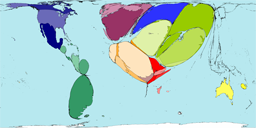 This smaller map removes the countries where Arabic is dominant. This map therefore only shows 4.5% of all speakers of Arabic. The territories omitted are Bahrain, Kuwait, Libyan Arab Jamahiriya, Oman, Saudi Arabia, Lebanon, Jordan, Tunisia, Gaza Strip & West Bank, Syrian Arab Republic, Algeria, Egypt, Morocco, Sudan, Yemen, Mauritania, Iraq and Western Sahara.
Click the map for a larger image.